Eating out
A word about Covid. As far as we know Apricale  and the surrounding villages of the Valley Nervia have been virus free. They are home to very many old people, kept safe so far by the strictest of Lockdowns. Visitors are now welcome to enjoy our virus free valley. Please help to keep the community safe by respecting the mask and distance rules when entering shops and bars.
Apricale village has seven good restaurants, which are open most of the  year. Below is a guide to some of our favourites in Apricale and the wider area. Prices do not differ very much from one restaurant to another. Expect to pay around 7 - 9 euros for pasta, 12 - 16 for meat. Some fine dining will cost a bit more. Most places now have a Facebook page or website for more information.
---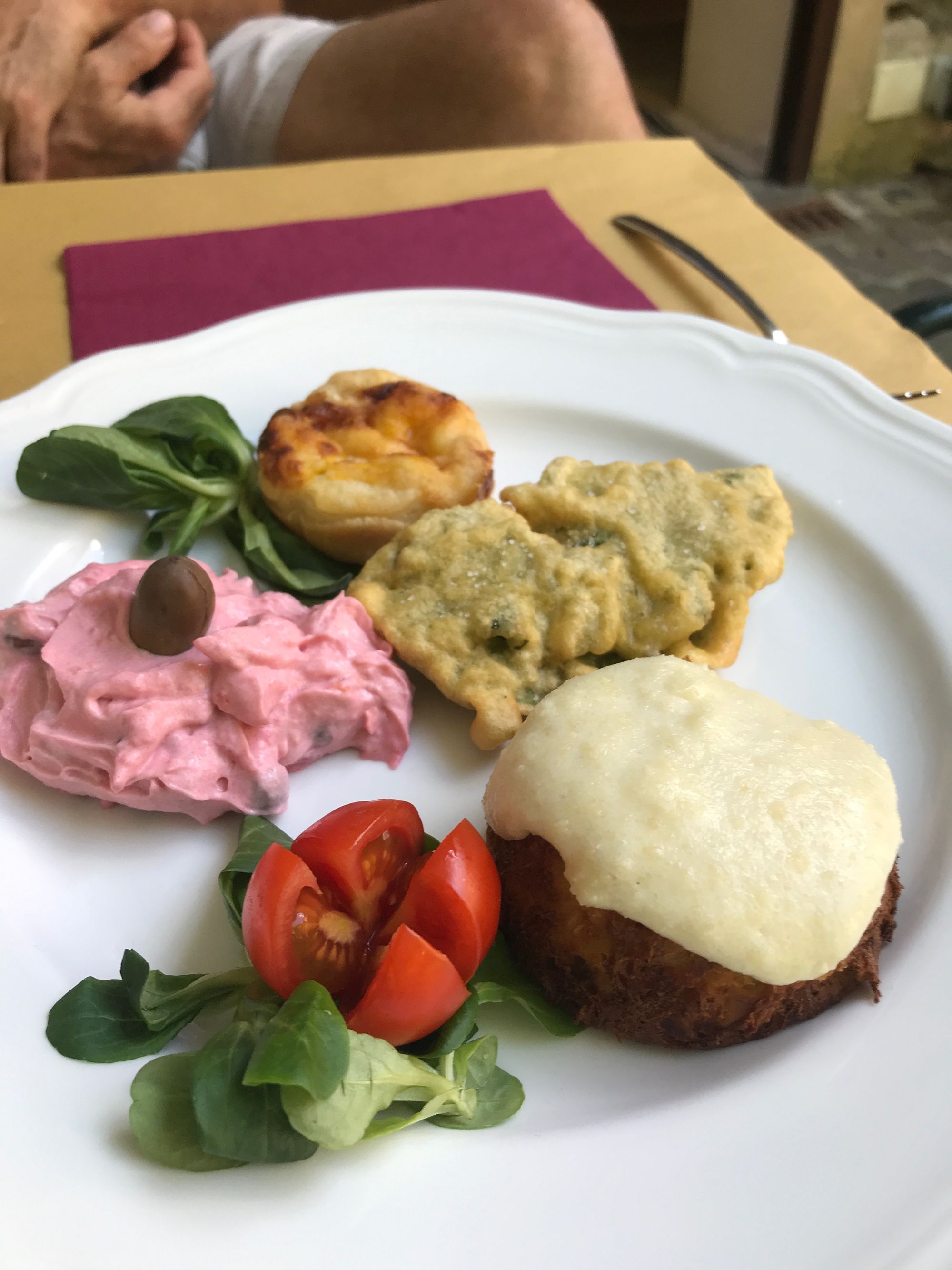 Bar/Trattoria A Ciassa
In the heart of village in the most perfect setting (Piazza Vittorio Emanuelle II) you have a choice of two café/restaurants. Ciassa which is open all day. Sit in the sun or while away the evening hours. Have a breakfast coffee with croissant or enjoy a plate of pasta, a slice of pizza or pie for lunch. The pastries and pasta are made on the premises and are very good. Book your table to ensure a place if you want to eat lunch or dinner here in the holiday season.'Ciassa' does traditional little anti-paste dishes and a lovely range of pasta, including plenty of choice for vegetarians. Pasta and savoury pies are their great strength. We had some nice  tender beef recently, too. They also serve the traditional rabbit stew with olives, which you have to eat at least once in Apricale, along with some nice desserts. Coffee, beer and bottles of local wine are available. Children can play football with the local youngsters in the evening while adults enjoy a drink or dinner. Phone 0184 208588 to book your table. Closed Wednesdays
Il Ristorante Baci
With tables the other side of the square and with a cool cave like dining room below.  We had not eaten here for sometime and didn't particularly recommend it. However, we recently enjoyed their delicious anti-paste at a birthay party with friends. A new chef, lots of choice for vegetarians and very helpful service made us keen to try the full menu. We will report back.
---
Apricus
Apricus is linked to the B&B of the same name. Retains its place as a village cafe, where people pop in for coffee and hang about to gossip, but has developed a café style menu aimed at visitors which includes plates of cold meat, varieties of pasta, salads, steak and chips, cake, coffee and other snacks in the daytime.  The view from the terrace is lovely, the food is imaginative, beautifully presented and reasonably priced. They serve lovely fruit tarts, including the best tart tatin you will ever eat anywhere. Their imaginative anti-pasta varies depending on the season.  You can sit outside on comfy seats, use the free very fast wi-fi and watch the sun go down behind the village. An evening glass of wine or beer and a plate of  their anti-pasta is a good start to your evening. Closes Monday. Open on Wednesdays, when the square and others in Apricale are closed. Must be booked in holiday season. Tel 0184 209020.
---
Monte e Mare
This is a newish venture, just beyond Apricus on the main road. The friendly family at Monte e Mare have been cooking in Apricale for many years. They serve simple tasty pizza and pasta in big filling portions. The menu is probably the most reasonably priced in the village. The toilet and dining area are completely wheel chair accessible. As their name suggest they also have big tasty bowls of mussels and fresh fritto misto. The spacious dining area is clean, bright and spacious, this along easy going proprieters make it a good place to take family groups, where restless little children can get down from the table and safely move around.
---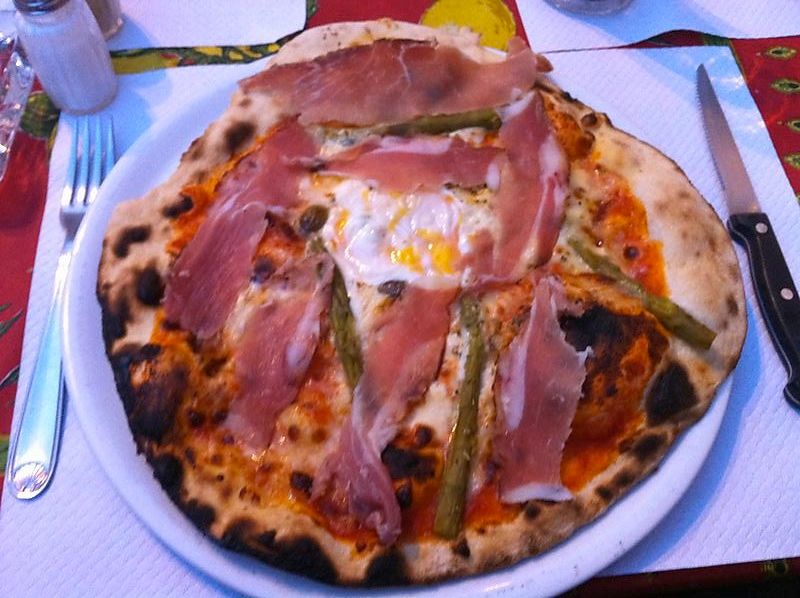 Il Vecchio Forno
The best pizzeria in an area known for good pizza is in Isolabona ten minutes by car, or a short walk down the hill from Apricale. Leo Martini has recently taken over the management from his father Claudio, who inherited it from his father,  Leo's grandfather Lula. They enjoys a reputation which extends far beyond the village. To cope with demand they recently installed a bigger oven and smartened up their decor. Il Vecchio Forno's light and crispy pizzas and their friendly staff are favourites with local people and visitors alike. A cheap option too, at 7 or 8 euros per pizza and also open late. Wine and draft beer are available, you can also taste local specialties; Farinata, a chick pea flour pancake usually eaten after your pizza and cubaita, nuts in honey between rice wafers. This tastes better than it sounds! They also serve homemade apple pie, a great espresso, and a good affogato.
Closes Tuesdays and Wednesdays in winter. Phone: 0184 208 18
---
La Locanda Delgi Ulvi.
Further away, but worth the walk or drive, on the ridge between Perinaldo and Dolce aqua is an agriturismo perched above the Nervia valley, La Locanda Delgi Ulvi. The crisp white tablecloths, good local red wine and views down the valley towards the sea are the backdrop to a meal full of surprises. You pay one price and eat your way through the menu. Course after course is offered from big serving dishes brought to the table; you take what you fancy or eat your way through the lot. What is on offer changes from day to day according to what is in the garden. Altogether, half a dozen little starters, two pasta and two meat dishes with desserts, coffee and liquors. Starts promptly at one o' clock each day. Must be booked on holidays and at weekends. It was 30 euros for the whole menu when we were last there. Phone 0184 206913
---
Osteria del Portico
Osteria del Portico in Castel Vittorio is the only place we know which rivals La Locanda. Four courses, four dishes to each course choose a few plates or taste everything. An intimate dining room and a great introduction to local and authentic family food food. There is lots of it, you take it home, if you can't eat it all, they are happy to pack it up for you. The place is very popular with local people and well known for it's snails in a garlicky tomato sauce. It has a great view over Pigna from the dining room windows. 30 euros when we last ate there. Closed Monday. Phone 0184 241 352 to book.
Desir de Roy cafe in Pigna
Any journey up the valley is not complete without a stop for a sweet treat as you pass Desir de Roy cafe in Pigna, the very best pasticceria /gelateria. The good coffee and vast choice of little home made cakes and biscuits are just fabulous and the ice cream (made on the premises with fresh ingredients) is our absolute favourite. At 1 euro a scoop and with a great variety of flavours this is not to be missed. At lunchtime you can order generous salad bowls. In addition, one of the best torte verde in the valley can be found at trattoria La Posta.  A savoury square and a slice of whatever fruit tart they have, makes a tasty walkers picnic. But get there early, the pies are sold well before lunch time.
---
Dolceacqua
Dolceacqua has several restaurants in the square and is a lovely setting for eating and drinking. The pizzeria near the tourist information is very good. Post work/ pre dinner the bars put out a range of little snacks and local people hang out and gossip. Nice atmosphere!
---
Alfios
Alfios under the autostrada is not a place you would visit for the view. But it is open all year round, always extends a warm welcome even to latecomers and offers a range of good, Italian, home cooking (as well as authentic pizza) at very reasonable prices. I'm told some guys who live alone eat here every night, it is that sort of place.
---
A bit up market
Prices and decor are beginning to catch up, making any distinction between a cafe, restaurant and trattoria a little less clear. Restaurants mentioned below offer prices comparable with Apricus.
---
La Favorita
Overlooking the village just off the approach road, perched on the winding Strada San Pietro is La Favorita. We have always thought this was the best traditional local menu, consistently very good but there is now a lot more competition in and around the village, with a younger generation succesfully interpreting their grandparents cooking traditions, we have to admit we are no longer so sure.  Their speciality is meat roasted before an open fire which if you are going to eat a leg of lamb or piece of beef  is absolutely the tastiest way to do so. La Favorita keeps the best wines and uses the very best ingredients for a valley Nervia menu with some seasonal specials. If you want to eat fresh funghi or broad beans in season, they will have them. The cars outside indicate the kind of people who come from France, Monaco and other parts of Italy, to lunch here. We recommend the anti-pasta, the ravioli with butter and sage and of course the meat roasted in front of a wood fire. They do a lovely zabaglione with the Apricale speciality, pansarole (tiny donuts.) Like most Italian restaurants lunch takes place at one o' clock, they are open but rarely busy, in the evening. Children are welcome. Phone 01842 08186 . They also do bed and breakfast. Closed Tuesday evening and Wednesday
---
Ristorante Apricale da Delio
This is the one to choose if you are looking for classic Italian dining. More inventive in their interpretation of Italian traditions and flavours is one reason why this restaurant has built a big reputation and attracted a variety of food writers. Delio Viale built quite a following among food enthusiasts from France, Monaco and other parts of Italy, for his innovative interpretations of Ligurian food and an a la carte menu drawing on wider Italian traditions. Sadly Delio died some time back but his family are keeping up the tradition he built. In summer you can sit out on a shady terrace overlooking the rio merdanzo valley. Whether eating outside or inside, the starched table cloths and attention to detail, give the whole restaurant a rather special, classical ambiance with a sophisticated, attractive menu to match. If you are looking for something a little more adventurous or classical dishes, both are on offer here. Da Delio is not as expensive as it looks with a very reasonably priced and nicely presented Ligurian set menu at 29 Euros for 3 courses. You can also eat more adventurously from the 'a la carte' list which is a bit more expensive.  Try potato and porcini pie, cod with pureed potato and pistachio, smoked tuna, spelt lasagne or rabbit ravioli with rosemary. Phone 0184.20.80.08. Closed Tuesday and Wednesday.
---
U Cian
Isola has the very glamorous and most welcoming U Cian, which is set back from the road in beautiful gardens.  It is an agriturismo, which means it serves homegrown, local food. A hard working older couple, who happen to be our neighbours, provide most of the vegetables served here. They grow them on the hillside up above the restaurant. U Cian will serve you a plate of pasta or risotto or the full traditional size meal of many courses and they sometimes have seafood. See their website for more details.
---
Terme
We also like Restaurant Terme beside the spa hotel of the same name, though they are quite unrelated. This restaurant is signposted on the right as you leave Pigna in the direction of Castel Vittorio. In summer a romantic little terrace looks over the valley. Amongst the specialty local dishes you might try the Pigna goat and bean stew or pansotti stuffed with ricotta and herbs. Not every family restaurant makes a generational change as successfully as Terme. The older generation are still around keeping an eye on standards and ensuring that the food is reliably excellent. A modern dessert trolley has replaced the squeaky old one from which you are invited to select an elegant little something (or two), to finish your meal.  They have a tasting menu for 30 euros for 6 starters, pasta dishes, roast lamb with rosemary and dessert. Eating a la carte you could spend half that amount. We highly recommend their Rossese wine from Guglielmi at 13 euros a bottle. Phone 0184 241 352
Sea Food
For good fish dishes you need to go down to the seafront where there are many places to choose from ,with menus from 12 to 25 euros (depending on the type and amount of fish).
---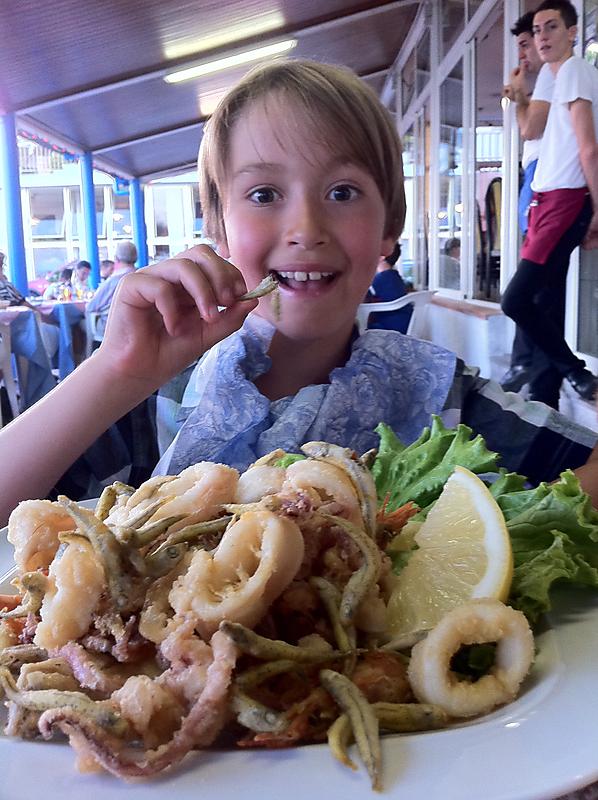 Casablanca
We like Casablanca in Vallecrosia for spaghetti vongole, fritto misto, sea food soup and their speciality calamarata. A Sicilian family has run this busy place, for many years. Turn down to Vallecrosia sea front under the railway bridge. Casablanca is on the left hand corner facing the sea. Convenient after a day on the beach especially when children can get wood fire cooked pizza and ice creams.
---
Ristorante Pizzeria Saraceno
In Old Bordighera we particularly like Ristorante Pizzeria Saraceno for it's really fresh seafood, family atmosphere and very reasonable prices.
---
Storie di Mare.
We recently had a great meal at this stylish restaurant, right on the beach between Vallecrosia and Comporoso, Fresh seafood at it's best, with the sounds of the sea in the background. Vegetables and salad with some inventive twists. Phone 0184 255660
---